Located in East Rutherford, NJ, American Dream features numerous attractions, including more than 500 retail stores and restaurants, an ice-skating rink, water park, movie theater, aquarium, the first indoor ski slope in the U.S., an indoor climbing center, the LEGOLAND® Discovery Center, and a Nickelodeon Universe® theme park—all spread out over three million square feet.
Infuse Digital's partnership with American Dream has yielded 40,000 square feet of LED display technology throughout the landmark mega-mall campus, including hundreds of indoor and outdoor digital displays.
The massive retail and entertainment destination features several dozen LED video displays, all provided, monitored, and maintained by Infuse Digital. These include fine-pitch interior digital displays in high-profile attractions as well as large-format exterior assets visible to heavy traffic on I-95, Route 120, and Route 3.
Additionally, American Dream is splashed with dozens of LCD kiosks, also supplied and supported by Infuse Digital. In fact, all kiosks and LED displays are overseen by Infuse Digital's Managed Services division, a team of service and technical experts.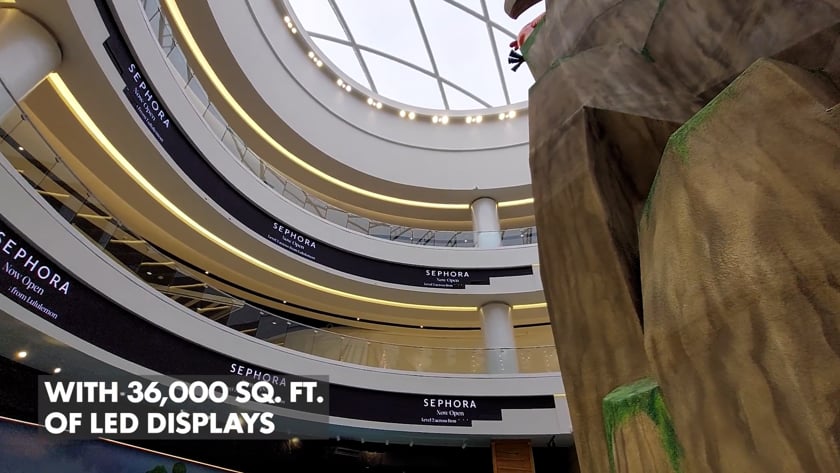 Margaritaville Resort Orlando is a 300-acre vacation attraction that opened in 2019 with a vast digital signage network implemented by the Infuse Digital team. The sprawling destination venue's digital platform includes fine-pitch interior display technology, digital wayfinding, LED spectacular assets, digital identification pylons, free-standing and weather-protected digital kiosks, LCD monitors, and other digital assets.
In addition to the dozens of smaller, practical digital assets throughout the resort, this Margaritaville campus includes several notable and sizable LED displays. The flagship digital signage for the venue is the 42-foot-wide video screen installed above the wave pool, serving as the focal point for the Island H20 Live! Water Park. Additionally, twin LED screens above a turnstile awning provide information and messaging for guests entering and exiting the water park. The highest-resolution digital asset on the property is a video wall with more than 2.5 million pixels behind the check-in counter of the resort's hotel lobby.
The extensive digital signage network promotes various events and activities throughout the resort in addition to displaying out-of-home (OOH) content. Media sales are managed by Infuse Digital partner Lightbox, a media company based in New York City.